Search For Books - By Author, Title Or Keyword
The Silmarillion (Boxed Set) (CD-Audio)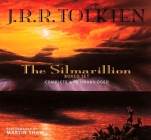 $65.00

Special Order- Subject to Availability
Description
---
The Silmarillion tells of the Elder Days, of the First Age of Tolkien's World, when Morgoth, the first Dark Lord, dwelt in Middle Earth, and the High Elves made war upon them for the recovery of the Silmarils, the jewels containing the pure light of Valinor.  It is to this ancient drama that the characters in The Lord of the Rings so often look back to.

Sit at the feet of the most beloved storyteller of the 20th century and hear how the world came to be.  The Silmarillion is told here in a brilliantly faceted audio production, with all the glory of the First Age itself.  Dazzlingly performed by Martin Shaw, it sparkles with the magic of the dawn of time--when Elves and Men roamed a world set spinning through space by the haunting music of supernatural choirs.  Slip through the shadows and you, too, may catch the whisper of harp-song on the winds of the high air above the mists of the world.

This exclusive audio boxed set of Tolkien's elegant masterpiece is one that will delight fans young and old.  It is an extraordinary keepsake to be treasured and listened to again and again.
About the Author
---
J.R.R. Tolkien was born on January 3, 1892 in South Africa. Tolkien was educated and taught Anglo-Saxon at Oxford University. Tolkien's other works include The Hobbit and The Simarillion, which are both available on audio from Random House.

Martin Shaw is an actor known for his roles in The Professionals, The Chief, Judge John Deed, Inspector George Gently, and more. Shaw is also a popular audiobook narrator who has lent his voice to such titles as The Hobbit, The Silmarillion, Gulliver's Travels, and Wuthering Heights.