Search For Books - By Author, Title Or Keyword
Once We Were Brothers: A Novel (Liam Taggart and Catherine Lockhart #1) (CD-Audio)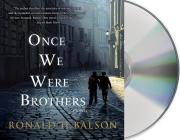 $52.99

Special Order- Subject to Availability
Description
---
The gripping tale about two boys, once as close as brothers, who find themselves on opposite sides of the Holocaust.

Elliot Rosenzweig, a respected civic leader and wealthy philanthropist, is attending a fundraiser when he is suddenly accosted and accused of being a former Nazi SS officer named Otto Piatek, the Butcher of Zamosc. Although the charges are denounced as preposterous, his accuser is convinced he is right and engages attorney Catherine Lockhart to bring Rosenzweig to justice. Solomon persuades attorney Catherine Lockhart to take his case, revealing that the true Piatek was abandoned as a child and raised by Solomon's own family only to betray them during the Nazi occupation. But has Solomon accused the right man?
Once We Were Brothers is Ronald H. Balson's compelling tale of two boys and a family who struggle to survive in war-torn Poland, and a young love that struggles to endure the unspeakable cruelty of the Holocaust. Two lives, two worlds, and sixty years converge in an explosive race to redemption that makes for a moving and powerful tale of love, survival, and ultimately the triumph of the human spirit.
About the Author
---
RONALD H. BALSON is an attorney, professor, and writer. His novel
The Girl From Berlin
won the National Jewish Book Award and was the Illinois Reading Council's adult fiction selection for their
Illinois Reads
program. He is also the author of
Eli's Promise, Karolina's Twins
,
The Trust, Saving Sophie
, and the international bestseller
Once We Were Brothers
. He has appeared on many television and radio programs and has lectured nationally and internationally on his writing. He lives in Chicago.
Fred Berman is a five-time winner of the AudioFile Earphone Award for Audiobook Narration and the recipient of the 2013 Audie Award for narration in Spy the Lie. He has read a number of audiobooks for young listeners, including Judy Blume's Soupy Saturdays with The Pain & The Great One and Andrew Clements's The Last Holiday Concert. He has also narrated the audiobooks for Robert Kirkman's popular series, The Walking Dead.
Berman is an accomplished actor of both the stage and screen as well, performing on Broadway as Timon in The Lion King and off-Broadway in Hamlet, Twelfth Night, and King Lear. On television, Berman has had roles on NBC's hit series Smash as well as All My Children and Law and Order. He lives in New York City.
Praise For…
---
"This is as compelling a story as you would ever want to read...This book is different in its passion and its presentation. It is worth your time and you won't be disappointed. Once We Were Brothers is a new look at an old story, and it will stay with you long after you have finished it." —Jackie K Cooper, Huffington Post
"The phenomenal triumph of lawyer-author John Grisham's legal thrillers has spawned surprisingly few successful emulators; however, Chicago attorney Balson's first novel, while featuring a young lawyer heroine, Catherine Lockhart, who sees her bar admission as a license to further justice, is no simple imitation of Grisham's entertaining potboilers..., this novel is uplifting and moving, intelligently written and featuring historically accurate context and an unusual insight into human character and motivations. Highly recommended for all readers." —Starred Library Journal Review
"Balson does a number of things superbly: he crafts a highly readable plotline and makes great use of the Chicago backdrop…many will enjoy this gripping novel for its narrative drive and its emotional storytelling." —Booklist Review
"The author describes the atrocities of wartime Poland and the beautiful, eternal romance between Ben Solomon and his wife, Hannah. Balson's first novel is hard to put down." —The Jewish Book World
"A legal thriller...a reader knows he's writing from the inside. " —Chicago Jewish Star