Search For Books - By Author, Title Or Keyword
Nia and the New Free Library (Hardcover)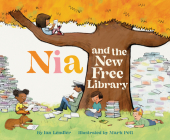 $18.99

Please call ahead to be sure inventory is not being held for other customers
Staff Reviews
---
This charming picture book, reminiscent of the classic story, Stone Soup, shows what's possible when a community comes together in support of one little girl's persistent dream.
After the local library burns down in Nia's town, the townspeople are divided on what to do with the space. Only Nia, who has fond memories of browsing the books, wants to build a new library. Nia is determined to begin, with or without support -- so she opens a new, free library. And with a little bit of clever encouragement, soon she has the entire town finding ways to help out.
--Matt, Longfellow Books
— From
Matt Recommends!
Description
---
This picture book tells the story of one girl who reminds an entire town of the joy of books.

When the town's old library is destroyed by a tornado, the people are left wondering: What should they do with the space where the library used to be?

The characters in Nia and the New Free Library all want different things: the builder wants there to be a new skyscraper, the grocer wants a new parking lot, but Nia just wants a new library . . . but how can one person build a whole library?

• Explores the power of community and what a group can accomplish
• Teaches the importance of working together toward a common goal
• Reminds readers of the important role libraries play in community, and how they work

Sometimes the biggest things can start with almost nothing at all.

Ian Lendler and Mark Pett bring humor and heart to this clever twist on the classic "Stone Soup" folktale.

• This triumphant ode to the magic of sharing stories is sure to strike a chord with bibliophiles of all genres, ages, and stripes.
• Resonates year-round as a go-to birthday or holiday gift for book-loving kids
• Perfect for children ages 5 to 8 years old
• Great gift for parents and grandparents, as well as librarians, teachers, and educators
• Add it to the shelf with books like Stone Soup by Marcia Brown, Delivering Your Mail by Ann Owen, and Seeds and Trees by Brandon Walden.
About the Author
---
Ian Lendler is the author of many picture books, the Stratford Zoo graphic novel series, and several works of nonfiction. His most recent picture book, The Fabled Life of Aesop, won the American Folklore Society Aesop Prize. If he could build his own library, it would include a room filled with puppies and free pizza. He lives in San Rafael, California.

Mark Pett is the author and illustrator of Lizard from the Park, The Boy and the Airplane, and The Girl and the Bicycle, as well as the coauthor and illustrator of The Girl Who Never Made Mistakes. He lives in Salt Lake City, Utah.
Praise For…
---
"An entertaining narrative extolling the community-building virtues of libraries."
—Publishers Weekly
Nia and the New Free Library 
"Inspired by how his grandfather got his town to build a library, Lendler cleverly tells his own version of this story through a fresh variation on 'Stone Soup.'. . . A heartening tale of community and perseverance."-Booklist
"Ian Lendler (
The Fabled Life of Aesop
) deftly concocts a tale of kid-friendly activism, demonstrating how one small person might achieve outsize results by giving the whole diverse community a stake in the dream. . . . The sketchy line work and pastel washes of Mark Pett (
This Is My Book!
) bring to mind the picture book art of David Small. . . . This inspired reimagining of the classic 'Stone Soup' story shows how a positive project can bring people together. 
Nia and the New Free Library 
demonstrates how spreading the love of reading might well elevate an entire community. . . [A] charming, kid-friendly take on grassroots activism."-
Shelf Awareness