Search For Books - By Author, Title Or Keyword
Seaside Stroll (Hardcover)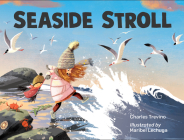 $16.99
On Our Shelves Now: Please call ahead to be sure inventory is not being held for other customers.
Description
---
Go on a snowy, sandy shore walk in a story where every single word starts with the letter S!

Explore the beach in winter in this story told through clever language. During a sunset beach saunter, a girl stumbles and drops her doll into a tidal pool. Soaked! Celebrating the natural silence of an off-season location, the surf and sand are brought to life through this engaging story.
About the Author
---
Charles Trevino is the program coordinator of the American Sign Language interpreter training technology program at Lone Star College in The Woodlands, Texas. He was inspired by ASL poetry when creating the structure for this, his first picture book.

Maribel Lechuga is the illustrator of Ten Beautiful Things. She has always felt an attraction to drawing and art, and she was fascinated by cartoons of the 1990s. She studied art at the prestigious Escuela de Arte 10 (Artediez) in Madrid. www.maribellechuga.com
Praise For…
---
♦ The wonders of a winter walk.
This charming outing delights in many ways. First, the entire story is told with s-words, adjectives, verbs, and nouns: scruffy, slosh, and, best of all, standstill, as the two beachgoers, an adult and a child, encounter something special. Read more closely, it's a poem with a pleasing rhythm and repetitions and a balanced, grammatical structure (explained further in an afterword). The text sits directly on full-bleed illustrations with just one or two lines to a spread, sometimes only a word. Pacing is also indicated with ellipses and page turns. "Slow steps—shuffle, straddle, saunter…sand" take the pair to the beach. Later there's a "Steady step, solid step, shaky step…stumble," and finally "Swift steps—scamper, scuttle, scurry…shower" before bedtime. Lechuga's illustrations, done in an appropriately wintry, bleached-out palette, add depth and detail. The two have pale skin and straight light and darker brown hair for child and adult respectively. They dress appropriately for a cold winter walk. The adult's A-shaped figure suggests possible pregnancy. The child carries a doll, which also wears a knitted cap. The beach they visit is full of wonders. Most astonishing are the crabs—who return, in this well-rounded tale, in a shared bedtime story. The winter landscape and changing sky are carefully depicted with added watercolor textures. One striking scene is a spread full of seabirds taking off as the girl approaches. "Super!"
Splendid for storytimes or snuggles.
—Kirkus Reviews, starred review

♦There's snow on the ground and a chill in the air, so it's obviously a perfect day for—the beach? Any season can be spent seaside with an adventurous spirit and the right clothing, so a white mother and her daughter bundle up and wander down to the windswept water's edge. The child takes a similarly bundled doll on the adventure, and the beach is empty of humans but full of other fun: shells and seaweed, terns and tidal pools. A sudden slip and splash see the child and doll soaked in seawater, but a cozy tub and story time await at the end of the marvelous, chilly day. Trevino tells the entire story in spare, poetic text, with every carefully selected word beginning with the letter S. It's a wonderful conceit, and the sibilant goodness manages to tell a full tale by way of clever punctuation and a limited vocabulary: "slow steps—shuffle, straddle, saunter . . . sand," it reads as the pair heads to the beach, "Slip . . . splash . . . sink . . . soaked!" as the doll falls into the water. LeChuga's captivating illustrations, a splendid mix of digital drawings and watercolor textures, evoke both the vast emptiness of a beach in winter and the activities to be found there upon closer inspection; a teeming tidepool is particularly striking. It's just the thing for a wonderful, wintery read-aloud.
—Booklist, starred review