Search For Books - By Author, Title Or Keyword
Charles Harper's Birds & Words (Hardcover)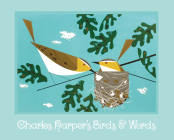 $24.95

Please call ahead to be sure inventory is not being held for other customers
Staff Reviews
---
What a treat for the many fans of iconic modern artist Charley Harper! His unmistakable style, utilizing simple geometries to capture the organic forms of the natural world, is wonderfully captured in Birds & Words, originally published in 1972, and recently re-issued. Within this little volume are 60 classic bird illustrations, each accompanied by a brief prose piece as caption. Also included is a brilliant introductory essay by Harper about his life and work -- full of insights for the curious fan."
--Matt, Longfellow Books
— From
Matt Recommends!
Description
---
Birds & Words is a vintage collection of 60 illustrations of birds and 60 humorous stories about each one. This book is a lovely reissue of the charming and highly collectible 1972 classic by Charley Harper.

Written and illustrated by the renowned illustrator. Harper's style has been referred to as "minimal realism."

• Charley Harper was a prolific mid-century modern artist based in Cincinnati, Ohio.
• Each bird was hand-painted in Harper's signature style.
• Birds & Words brings together the beloved illustrator's gifts as both an artist and a writer.

Charley Harper has illustrated numerous books, including the notable The Golden Book of Biology.

This new version of this vintage gem features a cloth-bound cover with a tipped in image alongside the original vintage typography.

• A great book for fans of mid-century modern aesthetics, and for designers, bird lovers, minimal art, and those who adore all things Charley Harper
• Giftable to a wide age range—from children to retirees, Charley Harper's charming illustrations and sweet stories appeal to all.