Search For Books - By Author, Title Or Keyword
Infinity: Figuring Out Forever (Hardcover)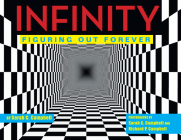 $17.99

Please call ahead to be sure inventory is not being held for other customers
Description
---
What is infinity? Explore this fascinating and complex math concept and its purpose in our world in this picture book that both demystifies and explains. Perfect for kids who grew up on Baby University books like Quantum Physics for Babies.

Defining infinity is difficult. But there is one thing people do every day that leads to infinity—counting. No matter what large number you name, there is always a larger number. By reading this book, kids can begin to think about this and other powerful ideas involving infinity, including how infinity relates to rocket science. Featuring clear text and beautiful photographs, this is an excellent choice for kids who want to delve deeper into math and science and for those ready to look at the world in a new way.
About the Author
---
Sarah C. Campbell is the author of the Geisel Honor Book, Wolfsnail, as well as Growing Patterns and Mysterious Patterns, co-created with her husband Richard P. Campbell. Visit sarahccampbell.com.

Richard P. Campbell is co-photographer with his wife Sarah C. Campbell of the acclaimed children's nonfiction books Wolfsnail, Growing Patterns, and Mysterious Patterns, as well as the photographer of some of the photos in Infinity.
Praise For…
---
Bank Street Cook Prize Silver Medalist
Bank Street Best Book of the Year
Eureka! Nonfiction Silver Honor Award (California Reading Association)
Texas Library Association Texas Topaz Nonfiction Reading List

★ "[T]he authors take a complex abstraction and make it accessible to young readers through non-technical descriptions, relatable examples, and full color, original photos that effectively reinforce the text... Like the authors' previous titles, this current work offers solid math along with reassuring encouragement. This attractive offering will enhance STEAM collections and spark curiosity and conversation among young readers." —Booklist, starred review

"Sarah C. Campbell does a grand job of not only saying what infinity is, but also makes it clear what infinity is not...it establishes infinity's importance for the younger readers and it does so admirably. A necessary purchase for libraries!" —Betsy Bird, Fuse 8 blog, School Library Journal