Search For Books - By Author, Title Or Keyword
Colin Woodard's Union Paperback Launch
Join Longfellow Books for an outdoor celebration of the paperback release of Colin Woodard's Union: The Struggle to Forge the Story of United States Nationhood on Thursday, June 17 at 7pm. Colin will be joined in conversation by Pat Callaghan, anchor for WCSH.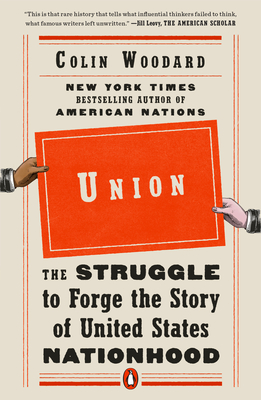 About the book:
From historian and Portland Press Herald reporter Colin Woodard, the new book Union looks at the myth of America, and how major figures from the 19th and early 20th century, each influenced by unique regional differences, viewed the nation's identity and purpose, ultimately attempting to craft their own visions of what America stands for.
"Journalist Woodard (American Nations) chronicles the history of attempts to define America's national identity in this ambitious and accessible narrative.... [H]e marshals a wealth of information into a fluid narrative that manages to make abstract intellectual concepts tangible. This enlightening and character-driven account will resonate with progressive history buffs."
--Publishers Weekly
"Woodard is a gifted historiographer, and this excellent work will be appreciated by anyone interested in American history and how it came to be written."
--Library Journal
About the Author:
Colin Woodard, a New York Times bestselling author and historian, is the state and national affairs writer at the Portland Press Herald, where he received a 2012 George Polk Award and was a finalist for the 2016 Pulitzer Prize for explanatory reporting. A longtime foreign correspondent for The Christian Science Monitor and the San Francisco Chronicle, he has reported from more than fifty foreign countries and six continents. His work has appeared in The New York Times, The Washington Post, The Economist, Smithsonian, Politico, and dozens of other publications. A graduate of Tufts University and the University of Chicago, he is the author of American Nations, American Character, The Lobster Coast, The Republic of Pirates, and Ocean's End. He lives in Maine.
Event date:
Thursday, June 17, 2021 - 7:00pm