Search For Books - By Author, Title Or Keyword
Virtual event: The City of Good Death, Priyanka Champaneri with Lisa Carey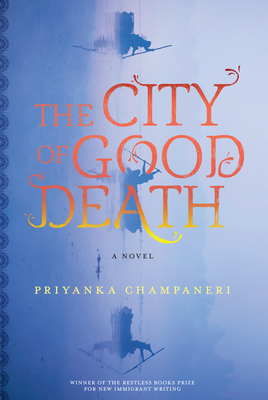 Please join Longfellow Books and Maine Writers & Publishers Alliance as we host Priyanka Champaneri discussing her debut novel The City of Good Death with Lisa Carey on Thursday, April 22 at 6:00.
"Winner of the Restless Books Prize for New Immigrant Writing, Priyanka Champaneri's transcendent debut novel brings us inside India's holy city of Banaras, where the manager of a death hostel shepherds the dying who seek the release of a good death, while his own past refuses to let him go.
Banaras, Varanasi, Kashi: India's holy city on the banks of the Ganges has many names but holds one ultimate promise for Hindus. It is the place where pilgrims come for a good death, to be released from the cycle of reincarnation by purifying fire. As the dutiful manager of a death hostel in Kashi, Pramesh welcomes the dying and assists families bound for the funeral pyres that burn constantly on the ghats. The soul is gone, the body is burnt, the time is past, he tells them. Detach.
Told in lush, vivid detail and with an unforgettable cast of characters, The City of Good Death is a remarkable debut novel of family and love, memory and ritual, and the ways in which we honor the living and the dead."
-Publisher Marketing
This is sure to be a fascinating conversation, offering insight into a world which many, if not most, Americans know nothing about. Please sign up to attend using this link: https://zoom.us/meeting/register/tJwkce2urDwsGtVJVcwnpNynj1hQGpPKwXD9 if you don't see a reply email, be sure to check your spam folder.
About the authors
Priyanka Champaneri received her MFA in creative writing from George Mason University and has been a fellow at the Virginia Center for the Creative Arts numerous times. She received the 2018 Restless Books Prize for New Immigrant Writing for The City of Good Death, her first novel.
Lisa Carey is the author of The Mermaids Singing, In the Country of the Young, and Love in the Asylum. She lived in Ireland for five years and now resides in Portland, Maine, with her husband and their son.
Event date:
Thursday, April 22, 2021 - 6:00pm

$28.00
ISBN: 9781632062529
Availability: Not in stock, usually ships to store in 1-5 Days
Published: Restless Books - February 23rd, 2021
---