Search For Books - By Author, Title Or Keyword
Virtual event: Second Chances: Craig Grossi in conversation with Monica Wood
Join Longfellow Books and the Maine Writers & Publishers Alliance as we host a virtual conversation between Craig Grossi and Monica Wood on Thursday, May 6 at 7:00pm.
Grossi's second book, Second Chances: A Marine, His Dog, and Finding Redemption explores the lives incarcerated men who train service dogs at Maine State Prison.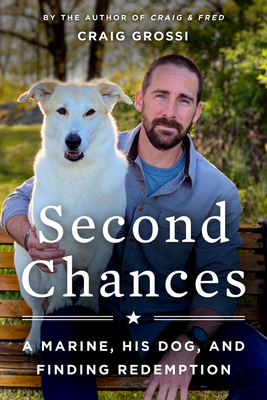 "Former US Marine Craig Grossi and his dog Fred appeared on the 'Today Show' and 'Rachael Ray', and in schools, bookstores, and military bases across America as they told the uplifting story of how Craig found Fred, a stray, while serving in Afghanistan--and brought him home. During their travels, Craig was invited to speak at Maine State Prison--the penitentiary that inspired Stephen King's famous "Shawshank." While there, he met a group of very special inmates, participants in a program run by the non-profit America's Vet Dogs.
In this emotionally powerful book, he introduces these men and challenges us to look deeper, to see them as human beings deserving of a new shot at life. "We're quick to give second chances to celebrities, politicians and famous athletes when they screw up," Craig reminds us, "but when it comes to those who've been convicted for their mistakes, we too often dismiss them as forever lost." Second Chances poignantly shows that no life is irredeemable and that each of us can make a difference if given the opportunity."
-Publisher marketing
Monica Wood, an excellent interviewer, has also worked with prisoners, so the evening's conversation is sure to be fascinating! Please sign up to attend by using this link:
https://zoom.us/meeting/register/tJItde6rqTwoGdafgh3qrn3KE6hEFypKD6Ap if you don't see a reply email, be sure to check your spam folder!
About the authors:
Raised in the Virginia suburbs of Washington, DC, Craig Grossi is a Marine Corps veteran, recipient of the Purple Heart and Georgetown University graduate. When not travelling with Fred, he devotes his time to veteran organizations including the USA Warriors Ice Hockey Program and other nonprofits that benefit dogs and veterans. He now lives in Maine with his partner Nora, and their dogs Fred and Ruby.
Monica Wood is a novelist, memoirist, and playwright. Her most recent novel, The One-in-a-Million Boy, has been published in 22 languages in 30 countries and won the 2017 Nautilus Award (Gold) and the New England Society Book Award. She is also the author of When We Were the Kennedys, an Oprah magazine summer-reading pick and winner of both the May Sarton Memoir Award and the 2016 Maine Literary Award. Ernie's Ark was excerpted on NPR's "Selected Shorts" and selected by several towns and cities as their "One Book, One Community" read.
Event date:
Thursday, May 6, 2021 - 7:00pm

$25.99

ISBN: 9780063009523
Availability: Not in stock, usually ships to store in 1-5 Days
Published: William Morrow - April 13th, 2021
---

$16.99

ISBN: 9780062693396
Availability: On Our Shelves Now: Please call ahead to be sure inventory is not being held for other customers.
Published: William Morrow Paperbacks - November 27th, 2018
---