Search For Books - By Author, Title Or Keyword
Virtual Event for The Temple House Vanishing by Rachel Donohue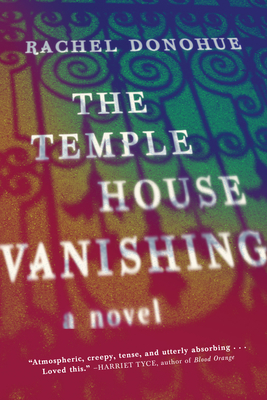 Join Longfellow Books for a virtual celebration of The Temple House Vanishing, the debut novel by Rachel Donohue on Tuesday, July 20 at 7pm EST. Rachel will be joined in conversation by Lisa Carey. This event will take place on Zoom and is free of charge, but pre-registration is required. To register, please click here.
About the book:
Perched high atop a seaside cliff in Ireland, a lonely Victorian mansion is home to Temple House School. And at Temple House, nothing is ever as it seems.

Louisa is the new, brilliant scholarship student. Finding most of the other students at the all-girls Catholic boarding school as icy and unfamiliar as the drafty mansion, she forms a fierce bond with the intense and compelling Victoria, an outlier and student provocateur.

Their close bond is soon unsettled by the young, charismatic art teacher, Mr. Lavelle—igniting tension and obsession in the cloistered world of the school. Then one day, Louisa and Mr. Lavelle disappear.

There is no trace of either one. It's the unsolved mystery that captivates the whole country. Year after year, the media revisit it, and the conspiracy theories persist. Now, on the twenty-fifth anniversary, a journalist—a woman who grew up on the same street as Louisa—delves into the past to write a series of articles and uncover the truth. She finds stories of jealousy and revenge, power and class. But will she find Louisa and Mr. Lavelle, too?

Because remember—at Temple House, nothing is ever as it seems.

Told through alternating points of view, Rachel Donohue's debut novel skillfully, gradually, lets the reader into the hearts and minds of both Louisa and the determined reporter. This page-turner is perfect for fans of Elisabeth Thomas's Catherine House or Kate Elizabeth Russell's My Dark Vanessa.
About the authors:
Rachel Donohue lives in Dublin, Ireland, where she works in communication and media relations. In 2017 she won the Hennessy New Irish Writer of the Year Award for her short fiction. The Temple House Vanishing is her first novel.
Lisa Carey is the author of five novels, most recently The Stolen Child. She lived in Ireland for five years and now resides in Portland, Maine, with her husband and their son.
Event date:
Tuesday, July 20, 2021 - 7:00pm

$16.95

ISBN: 9781643750279
Availability: On Our Shelves Now: Please call ahead to be sure inventory is not being held for other customers.
Published: Algonquin Books - July 6th, 2021
---