Search For Books - By Author, Title Or Keyword
Virtual launch: Night Came with Many Stars by Simon Van Booy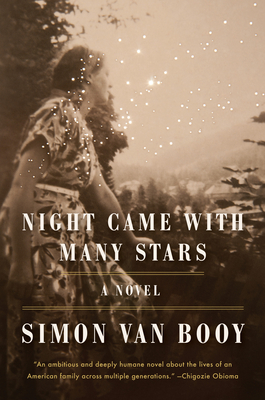 Please join Longfellow Books and the Maine Writers & Publisher's Alliance for the launch of Simon Van Booy's newest novel, Night Came with Many Stars on Wednesday, June 9th at 7:00. Simon will be joined in conversation by Meredith Hall.
Please use the following link to register: https://bit.ly/3u17wwM If you do not see a confirmation, check your spam folder.
About the book:
In rural Kentucky, back in 1933, Carol's daddy lost his 13-year-old daughter in a game of cards. Award-winning author Simon Van Booy's spellbinding novel spans decades as he tells the story of Carol and the people in her life. Incidents intersect and lives unexpectedly change course in this masterfully interwoven story of chance and choice that leads home again to a night blessed with light.
"What you give in this world," an old man tells his grandson, "will be given back to you." Those words illuminate the actions within this unforgettable novel and its connected characters. A young man survives two nearly fatal accidents. A Black family saves an orphaned white boy. A pregnant teenager is rescued by the side of the road. A teenager developmental disorders is given his first job. Each incident grows in meaning and power over many decades as we see connections sometimes felt but not always apparent to the people themselves. "Everything was moving," observes Samuel (Carol's grandson) in the Kentucky woods. "An invisible force that was everywhere, and made everything touch."
Told by a master storyteller, Night Came with Many Stars is a rare novel that reveals how wondrous, mysterious, and magically connected life can be—the light Van Booy creates in this novel illuminates our own lives.
What people are saying:
"I read this novel in a headlong rush, unable to break free of its spell. Beautiful as an old bruise, plain-spoken as a prayer, Night Came with Many rings hard and true with the poetry of real life. Van Booy knows that love and heartache go hand-in-hand—and that cold hard reality is no match for the dreams and longings each of us carry inside."
—Christina Baker Kline, #1 New York Times bestselling author of Orphan Train, A Piece of the World
"Simon Van Booy's Night Came with Many Stars is an ambitious and deeply humane novel about the lives of an American family across multiple generations. This is a monumental novel that brings something new and resonant to the classic American multi-generational family novel."
—Chigozie Obioma, author of The Fishermen
About the authors:

Simon Van Booy is the author of four highly acclaimed collections of short stories, four novels including, The Illusion of Separateness, a national bestseller, and several books for children. He is the editor of three philosophy books, and has written for the New York Times, the Financial Times, the Guardian, the Times, National Public Radio, and the BBC. His books have been translated into many languages.
Meredith Hall is the author of the critically acclaimed novel, Beneficence. Her memoir Without a Map is a classic of the genre and a New York Times bestseller. It was named Best Book of the Year by Kirkus and BookSense, as well as Elle's "Readers' Pick of the Year." Her work has appeared in Five Points, The Gettysburg Review, The Kenyon Review, The Southern Review, The New York Times, and many others. Hall divides her time between Maine and California.
Event date:
Wednesday, June 9, 2021 - 7:00pm

$25.95

ISBN: 9781567927030
Availability: Not in stock, usually ships TO STORE in 3-5 business days
Published: David R. Godine Publisher - June 8th, 2021
---